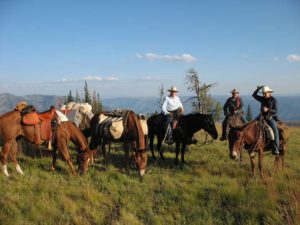 Come explore the Idaho backcountry on a wilderness pack trip with us!
This exciting pack trip explores the Frank Church River Of No Return Wilderness or the Gospel Hump Wilderness and the Nez Perce National Forest in the Idaho backcountry. This is the largest wilderness in the lower 48 states. These trail riding vacation trips take us through some of the most beautiful country on earth on our trail proven stock. It's warm pine-scented mountain breeze, blue sky, crystal clear lakes & streams and blue-green forests are sure to steal your heart. You can wet a line and fish for wild trout in a pristine mountain lake & stream. Photograph our incredible scenery and wildlife, elk, deer, bighorn sheep, mountain goat, moose, mountain lion, bear and maybe a wolf. We will camp under the stars in a comfortable tent and reminisce around the evening campfire about the day's adventures. Our standard pack trips are 7 days and 6 nights. Our trips start from our wilderness log lodge in the heart of the Nez Perce National Forest with 4 days and 4 nights at the lodge and 3 days and 2 nights in the backcountry. We also offer a lodging package for the not so adventurous. It has 7 days and6 nights at the lodge with 3 days of riding that return each night to the lodge. If you're looking for adventure and a place to let civilization fade away, the serenity of the Idaho backcountry is the place. Join us on an Idaho Backcountry Adventure.
For more information call Rick & Deb at (208) 842-2417
Or drop us an e-mail, we would like to hear from you!