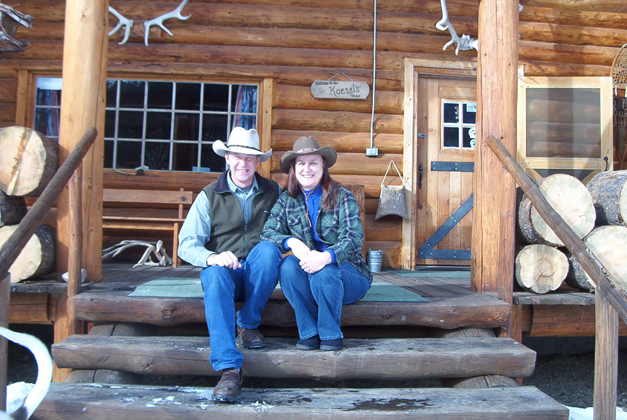 We live in our lodge year round and enjoy the backcountry life immensely. We enjoy sharing that way of life with our guests and take great pride in making your accommodations and meals some of the bests in the backcountry. We think of our guest like extended family and want to see you for years to come. So come and stay with us and have the time of your lives in the backcountry of one of the most remote, pristine areas in Idaho.
The lodge was constructed in the early 1980's and is about 6,800 sq. ft. It's a home-style lodge with many modern conveniences to make your stay as comfortable as possible. We offer home cooked meals daily with homemade pies, bread, rolls and desserts to finish them off. The kitchen is always open with fresh baked treats and freshly brewed coffee. With all of the conveniences the lodge has to offer, it makes for a great home base for your backcountry adventures.
We have just added the "Cook Ranch" to our outfitting area. We will be offering hunting, fishing, summer pack trips, remote guest lodging & trail rides. This remote ranch is located on Mallard Creek. The ranch is a 2 mile horseback ride or horse-drawn wagon ride in from the trail head. This ranch is ideal for people that want to get away from it all.
The ranch features a great log lodge that overlooks a lush meadow that is teaming with wildlife. A bunk house for larger groups and the original homestead cabin. Mallard Creek runs through the meadow and is teaming with brook trout for the fisherman. We will be offering some special get always vacations at the ranch. We have plans for a wildlife outdoor photography class and a professional outdoor cooking class. Our instructors will be some of the best in their field. If you are interested give us a call or email us for more information.
Silver Spur Outfitters & Lodge, Inc.
2742 Dixie Rd.
Dixie, Idaho 83525
208-842-2417
Toll-free 866-478-4365