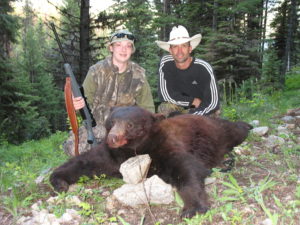 Our spring Bear Hunts Over Bait run from May 15th thru June 30th. These hunts are based from our modern log lodge. The lodge has all the modern conveniences and serves the best food in the backcountry. These are exciting hunts that will get your adrenaline pumping. Our success rate on bear is very high with a very good chance of getting a color phase. We take 40% black and 60% chocolate, cinnamon or blond color phase. We are hunting in units 15, 16A, 19 & 20. Units 16A, 19 & 20 are in the Selway Zone that has a two bear limit. Units 16A, 19 & 20 are also reduced tag units so a non-resident tag is only $41.75 each. These are great hunts for couples or father & sons or daughters. We can also accommodate a person that can't take a physically strenuous hunt or has limited mobility. The backcountry is alive with flowers and wildlife at this time of the year and your chances of seeing elk, deer, moose or wolf beside a bear are very high. So make sure you bring a camera. We are running a Special 6 Day Over Bait Hunt single bear hunt for $2,675.00. A second bear can be hunted for $1,000.00 extra.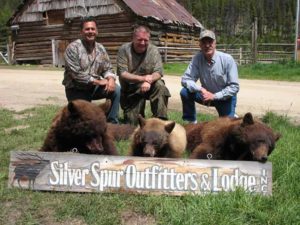 Our Spot & Stalk Hunts are on the main Salmon River. On this thrilling hunt, we travel the Salmon River by jet boat to remote drainage's and glass the mountain sides to spot the bears. We then land and put a stalk on the bear and take a shot. We hunt in units 20 & 20A for this hunt. This hunt requires you to be in good physical shape because of the steep terrain during the stalk. We run this hunt the last 2 weeks of April each year.
An Idaho non-resident hunt license is $154.75 & 1st reduced bear tags is $41.75 and a 2nd bear tag is $41.75 for in unit 19, 20 & 20A. The cost of a bear tag in unit 15 is $186.50.
For more information call Rick & Deb at (208) 842-2417
Or drop us an e-mail, we would like to hear from you!
huntingidaho@silverspurlodge.com