Click here for Suggestions for an enjoyable hunt
Our Idaho hunting area encompasses almost 650 square miles of which includes the Gospel Hump Wilderness, Frank Church River of No Return Wilderness and the Nez Perce National Forest. The Salmon River runs through our outfitting area for approximately 26 miles. The elevation is 2,300 ft. to over 7,400 ft. with the lodge at 5,600 ft. in elevation.
The fall brings on elk season. The bugle of Idaho elk can be heard echoing throughout the mountains, which makes for great Idaho elk hunting. Our elk hunts are in units 15 Elk City Zone, 16A, 19 & 20 of the Selway Zone and 20A of the Middle Fork Zone. We hunt the Frank Church River of No Return Wilderness, The Gospel Hump Wilderness, and the Nez Perce National Forest from backcountry camps that are a 5 to 12-mile ride from the trail head. These are wilderness hunts at their best.
We start our season with Archery elk hunts from August 30  to September 15th. Next, comes our guided combination elk, deer & bear hunts from September 15th these are any weapon bugle combination hunts for elk, deer and bear they run from September 15th through October 11th and are from deluxe backcountry camps. From October 12th to November 11th we have our regular combination elk, deer and bear hunts. These hunts require a 5 to 12-mile horseback ride to camp. Our camps are set up with a cook tent with table, chairs wood stove and complete kitchen with propane cook stove. The sleeping tents have cots with foam pads and a wood stove for heat. Our hunting guides will guide you through these majestic mountains in your pursued of trophy elk, deer & bear. When you return from day hunting, our camp cook is sure to keep you well fed with some of the backcountry's best home cooked meals.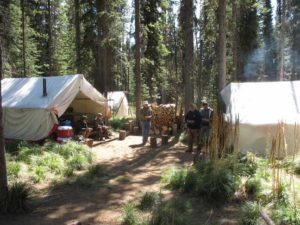 We also offer deluxe drop camps for the experience hunters. These camps are the same ones we use for our guided hunts. They feature a cook tent with propane cook stove and wood stove for heat. It is also equipped with dishes, pots & pans and table & chairs. The sleeping tents are equipped with cots with foam pads and wood stoves for heat. All you need to bring is your food and personal gear. We pack you in and pack you and pack your game out. The camps are also equipped with radio communications for emergencies and contact with the lodge to call for a  packer to pick up your game. These camps will sleep up to 8 people. We require a minimum of 2 hunters in drop camps. We do not mix groups in a drop camp. We also offer a 10% discount for 5 or more hunters in a drop camp.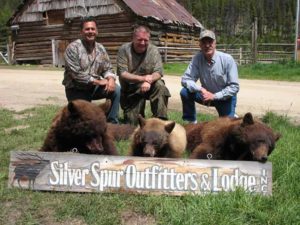 Our Lodge and Backcountry Ranch hunts are from our main lodge. These are great hunts for the hunter that needs a roof over his head each night. These hunts are done by horseback & foot. Also a great hunt for the hunter who brings his a non-hunter along. These hunts can be self-guided or guided.
We offer bighorn sheep hunts in control hunt area 19. These are 10-day hunts and are by horse, foot and jet boat. There is a good sheep population in our area and with our pre-hunt scouting, your chances of scoring are very high. This tag needs to be applied for in April. Call us for information.
Moose hunts run from August 30th thru Nov 23rd. We hunt control areas 19 & 20. These hunts are from camp & lodge depending on which tag you draw. This tag needs to be applied for in April so contact us early so we can set you up with an application.
Our mountain lion hunts are based out of the lodge from November 20th thru March 31st. We use 4X4, ATV or snowmobile to find fresh lion tracks and use dogs to track them. There is a two lion limit and a reduced price lion tag. The cost for the nonresident license & tag is $186.50 with the second tag at $31.75.
Our spring bear hunts over bait run from May 15th thru June 30th. These hunts are based from the lodge which has great accommodations and food. Our success rate on a bear is very high with a two bear limit in 2011. These are great hunts for couples or father & sons or daughters. We have a reduced price hunt for daughter's or son's from 12 to 17 years old that accompany and adult. The cost is $1,200.00. for the junior hunter.  There is also a reduced mentor license & bear tag for $55.50. The hunts over bait work well for a person that can't take a strenuous hunt or is handicapped.
We also offer a spot & stalk bear hunts on the main Salmon River. These hunts will be from a jetboat. We spot the bears from the river and stalk in for a shot. This country is steep and you need to be in good physical shape. These hunts will run from April 15th to May 1st.  Call for more information.
No matter what type of Idaho Hunting you choose, our guides, packers, and cooks will make your backcountry hunt a memorable one!
For more information call Rick & Deb or e-mail, we would like to hear from you!