When it comes to elk hunting you can't get any location better than Idaho. Idaho offers expansive wilderness that provides individuals with many wilderness backcountry hunting experiences which you can't find anywhere else in the world.
The Idaho backcountry is a place worth protecting and keeping for a variety of reasons, one of those reasons is the prime hunting options. When you visit Idaho you will be able to enjoy and experience a rugged landscape as well as a world-class outdoor experience that is the same as it was when your grandparents and great grandparents enjoyed it in generations prior.
Our fall hunts are combination elk, deer and bear hunt. You can take the opportunity to hunt all 3 big game animals for one price.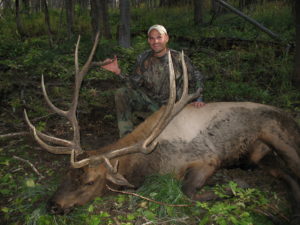 We offer Guided Backcountry Camp Hunts that are accessible by horseback only.  These hunts are 9 days. The 1st day is arrival day you will spend the night at our lodge and pack into camp the morning of the 2nd day you will be hunting that day.  You will remain in camp for 7 days and 6 nights packing out the afternoon of the 7th day in camp. You will be staying in the lodge the day you arrive back and check out will be the next day. Our camps are in contact with lodge by radio and call in the packer when your game is down. We offer these hunts as 2×1 (2 hunters and 1 guide) and 1×1 hunts (1 hunter and 1 guide). The camps are equipped with 3 large tents, cook, hunters and guides tent. all have wood stoves for heat and sleeping tents have cots with foam pads for sleeping. When you get your game, the packer will pick up your game, take it to the lodge meat house or in hot weather take to cold storage. The guided hunts have a full-time cook and professional guides. Our guides will be with you every day and do their best to get you on the elk you want. Our cook will serve three delicious meals daily. Check our price list for the cost.
We also offer Deluxe Drop Camps, these are the same camps used for our guided hunts. They will sleep 8 people in three tents. There's a fully equipped kitchen and dining tent with all dishes and propane stove.  You will have to bring your own food and personal gear. We will supply a radio to contact with the lodge. When your game is down you can radio the lodge and the packer will pick up your game and return it to the lodge meat shed.  We do require a minimum of 2 hunters. We do not mix groups in drop camps so your group will have exclusive use of it. Like the guided hunts, it includes first and last day at the lodge with meals.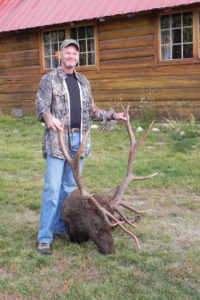 We also offer Guided Lodge Hunts from our log lodge and have all the comfort of home. These hunts are by 4×4, ATV, horseback, and foot. You will start the day with a hot breakfast and return to the lodge each evening to a home cooked meal.
Consider the many elk hunting options available at Silver Spur Outfitters & Lodge and you are sure to find something that appeals to your hunting interests. At Silver Spur Lodge you will be sure to get a unique experience that you won't get anywhere else. The hunting in Idaho is some of the best wilderness hunting in the world and is a must for any hunting enthusiast. So visit Idaho on your next hunting vacation in order to have a wonderful experience you won't soon forget and will be able to talk about with your future generations for years to come.
For information call 208-842-2417
Save